MAZE presented a complex challenge to refresh the logo and promotional materials for illusionist Jim Munroe. I worked with MAZE to develop an approach that maintained the shows mystery while building excitement leading up to the event. 
Process
At the start of the project we had identified several different promotional projects in addition to the logo including posters, table tents, tickets, flyers and the event program. Because MAZE events rely on volunteer work in advance of the show to produce and distribute the materials, it was clear that a simple and easy to use branding system was needed for Maze.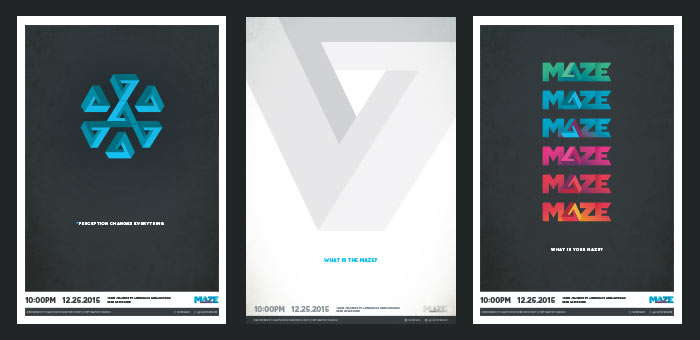 Through my research I identified that a core concept of MAZE is bringing into question what we accept as reality. I used this to guide the direction of the logo and throughout the entire branding process. The resulting logo utilizes a Penrose triangle to illustrate the twisting of reality. This triangle became a key part of the brand structure and was integrated throughout the materials.
Functionally a wordmark was necessary to aid brand recognition due to the nature of the promotional materials. Because Maze events are edgy and mysterious, I developed a bold sans wordmark that would allow us to maintain a readable and recognizable logo across a broad range of applications and production methods..
Applications
MAZE presented a unique problem in that most of the pieces had variants for different event sponsors. All the materials were sent to the hosts in advance of the event. The host city's volunteers would then oversee the production and distribution of the materials to promote the upcoming events. Because each host city oversaw production, the hosts needed the ability to add the event information prior to printing. This problem was solved by providing the deliverables as editable PDF forms with embedded fonts allowing us to maintain a cohesive brand without supervising each event.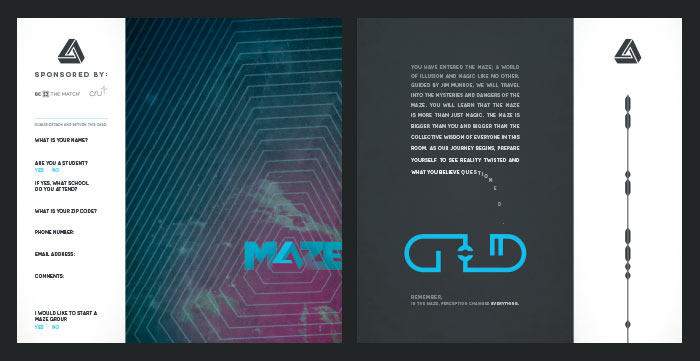 Although Maze presents a mysterious image, it was important that elements of the promotional materials had a rational explanation for their form. This is seen in the posters and programs where we leveraged both the Penrose triangle and Morse Code to develop decorative motifs and typographic symbols creating visual puzzles within the materials that provided an added layer of depth. The result is a brand structure that is playful, mysterious and flexible.