The goal for the Pots & Labor project was to create a logo and collateral for a small local pottery studio that could be easily reproduced by the client as needed while maintaining a handmade connection that enhanced the appeal of the studio's products. 
Process
From my discussions with the client I knew they wanted a logo that evoked a more industrial and almost retro automotive feel. Initially I explored lettering a wordmark with a stylistic nod to 1950's to give the logo a nostalgic Americana vibe. While conceptually appropriate, this solution proved too limiting for imprinting in clay and small scale applications. The final direction was a combination of logotype and icon that allowed for much greater flexibility across a broad spectrum of applications.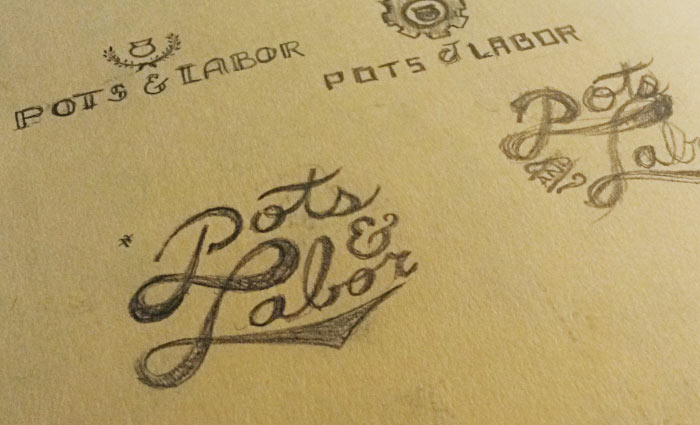 Applications
Early in the project we had identified three immediate applications: a card insert with the website, a tag used on the products for pricing, and an imprint to brand the pottery itself. It was clear that reducing waste while retaining a handmade connection was very important so I worked closely with Pots & Labor to source materials for producing product inserts and price tags with upcycled cardboard imprinted using a set of three stamps. This allowed the client to produce new materials as needed with very little cost. The result is a robust system that provides a simple, cohesive brand structure that enhances the appeal of the studio's product.